Learn to sew...or sew better!
Sewing is not just mending, sewing is a form of self-expression.  Whether you show your creativity through garments, quilting, or crafts, we have the classes to help you gain more knowledge and improve your skills.  
We teach individuals how to use the sewing machine.  If you are new to sewing or have a sewing machine that is new to you, we're here to help you understand your machine better so that you can utilize all the wonderful features that will help you in your creative journey.  We teach on all makes and models of sewing machine.  We teach students how to use the serger and embroidery machine too!
In addition to machine training, we also teach several types of sewing classes.  What we're most known for are our Sewing Labs.  We've been teaching this format for over twenty years.  In a sewing lab, the student brings in individual projects and we help the student learn to sew on a project of their choice.  In the process the student will learn how to follow a pattern, learn sewing short-cuts, professional finishing techniques, installation of closures such as zippers or buttonholes, and more.  We have a fully equipped classroom complete with large tables for cutting, sergers, ironing stations, and spacious tables for sewing.
We also offer project specific classes such as quilting and bag making, garment construction, and now Erica Doyle (owner and instructor) is a certified Sure-Fit Designs instructor teaching how to achieve the best fit in the Sure-Fit Designs program.
Fabrics
We stock a carefully curated collection of colorful cottons for quilting and garment making.  We also have a large selection of garment fabrics such as cotton jersey, rayon, denim, and linens.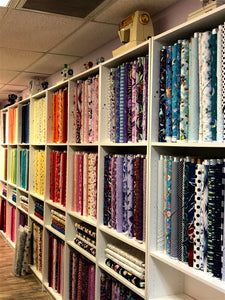 The Sewin'Asylum
10050 W. Bell Road #1
Sun City, AZ  85351
623-398-6235